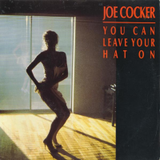 JoeCocker zat al in kleine bands in zijn geboortestad Sheffield toen hij vijftien jaar oud was. Hij verscheen voor het eerst op de Amerikaanse televisie in 1969, in de Ed Sullivan Show. 'I'll Cry Instead', Cockers eerste single, was een cover van The Beatles. Hij had een eerste bescheiden hitje in Engeland in 1968 met 'Marjorine'. Zijn eerste grote hit, zijn tweede Beatlescover, verscheen in het najaar van 1968: 'With a Little Help from My Friends', een eigen versie van een van de nummers op het conceptalbum 'Sgt. Pepper's Lonely Hearts Club Band'.

Kort daarna, in de zomer van 1969, deed zijn verschijning op de Woodstock Music & Art Fair zijn populariteit nog verder stijgen. Andere vroege hits, uit het begin van de jaren zeventig, waren 'Cry me a river', 'High time' we went en 'Feelin' Alright'.

In die periode begonnen zijn problemen met drugs en alcohol, maar hij maakte een comeback in de jaren tachtig. Hij had grote hits met 'You are so beautiful', 'Up where we belong' en 'Unchain my heart', waardoor hij een nieuw publiek aan zich bond.

Cocker coverde meer liedjes, bekend werden onder andere zijn versies van 'The Letter' (van The Box Tops), van 'Feelin' Alright' (van Traffic) en van 'Summer in the City' (van The Lovin' Spoonful). Hij blies ook nieuw leven in het Randy Newman-liedje 'You Can Leave Your Hat On', dat werd gebruikt in de erotische film '9Ĺ Weeks'.

Hij was beroemd om zijn opvallende, rauwe stemgeluid en een spastische gestiek.

Cocker overleed 22 december 2014 op 70-jarige leeftijd in zijn huis in Colorado aan de gevolgen van longkanker.